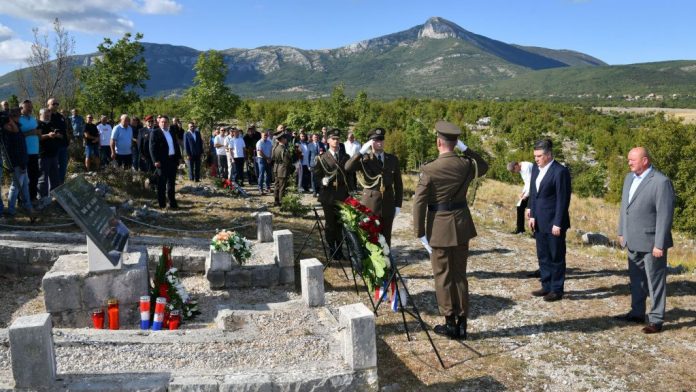 Predsjednik Republike Zoran Milanović u Kijevu sudjelovao je na obilježavanju 30. godišnjice velikosrpske okupacije toga mjesta tijekom koje je ubijeno 14 civila, uz troje poginulih branitelja. Kijevo je prije toga godinu dana preživjelo u potpunom okruženju barikadama odsječeno od ostatka Hrvatske, a nakon okupacije je potpuno razrušeno.
Položeni su vijenci i održana komemoracija u sjećanje na sve stradale Kijevljane.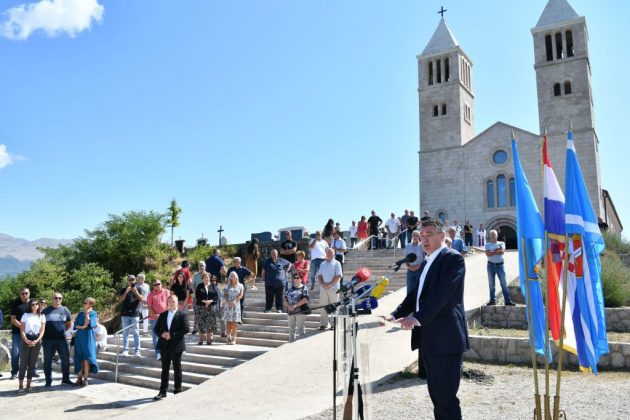 – Mi smo društvo ljudi koji imaju zajedničku prošlost, svijest o toj prošlosti, neke zablude, vjeru u novi početak i sutra. Mi smo zajednica ljudi koji su mrtvi, ali su njihovi duhovi i povijest, ostavština i dalje u nama, trojedna zajednica – duhovna, ne teritorijalna – onih koji su živi i onih koji se tek trebaju roditi. Nismo nestali, ima nas dovoljno, ima nas četiri milijuna u Hrvatskoj. Živimo i radimo s onim što imamo, nemojmo očajavati, nemojmo dizati moralnu paniku da ćemo kao narod izumrijeti, nećemo, nema teorije i vi ste tome svjedok, vaša teška sudbina, poručio je.
– Ima vas dovoljno u ovom mjestu da izgradite uvjete za dobar život kakav nije bio recimo '70-ih godina kada sam ja kao dječak s roditeljima prošao automobilom ovuda. Ja sam valjda jedini dječak koji se vratio u Zagreb i znao da postoji Kijevo, tamo negdje daleko. Danas, vi i vaš mladi načelnik, imate šansu ako vas poslušaju biti sjedište parka Dinara. Sama činjenica da danas mi još o tome licitiramo, nije dobra. Kijevo je odavno trebalo znati na čemu je, ovo nije kritika niti dnevnopolitička igra upućena bilo kome, to je odluka koju može donijeti nekoliko ljudi. Gospodo državni tajnici, iste bez utjecaja, što možete – možete. Napravit ćete nešto, u to sam uvjeren, nikome ovo ne znači kao Kijevu. Zato sam danas i došao ovdje, ova godišnjica će proći, neće se nikada zaboraviti. Svi smo dio jedne univerze, jednog svijeta i duha. Opraštanje, pomirba, suživot, poštovanje, pravo na novi početak i pravo na novi ekonomski početak za Kijevo. Živio dolazak sjedišta parka prirode u Kijevo, to je prilika za ozbiljan gospodarski uzlet, za otvaranje turističkih objekata, to je novac, posao. To nije preživljavanje, nego mogućnost prave zarade, od toga vas dijeli samo malo pažnje i jedna odluka, zaključio je.
Obilježavanje 30. obljetnice stradanja civilnih žrtava Kijeva
– Izražavam duboki pijetet prema žrtvi koju nosite, prema jednoj rani na srcu koja ne zarasta, ožiljku koji ostaje i koji nas obvezuje. Ono što olakšava tu bol, a ne miče sjećanje, su napori koje mi na vlasti pokušavamo učiniti. Nadam se da vijesti koje dolaze u zadnje vrijeme olakšavaju bol. To je ono što garantira da Kijevo više nikad neće doći u situaciju kakva je bila '90. i '91. godine. Europu tresu problemi, ali na ovom mjestu se drugačije diše, rekao je izaslanik premijera Plenkovića.
– Često smo u ovim krajevima, nadamo se da ćemo sljedeće godine prezentirati nove pomake i da će to vratiti dječji osmijeh u Kijevo, dodao je.
Kijevo ima zadnju priliku da živi
– Krenulo je zatiranje Kijeva i velikosrpski zločinci su ovdje napravili svoj krvavi pir. Kijevo je dalo tri branitelja na oltar domovine i 14 civilnih žrtava Domovinskog rata koji su sustavno ubijani četiri godine. Hrvatska država je napravila puno u Kijevu i zato danas možemo reći te '90. i '91. godine vrijedilo je svake kapi znoja i krvi, svake žrtve. Kijevo je danas mjesto koje se razvija, koje prolazi svoj križni put. Nikad nije prestala želja da se ovdje vratimo i ovdje živimo, rečeno je na obilježavanju 30. godišnjice pogibije civilnih žrtava Kijeva u Domovinskom ratu, rekao je Marinko Čavka, predsjednik Udruge veterana i dragovoljaca Domovinskog rata i zapovjednik obrane.
– Još više boli što za tih 14 ljudi dan danas nitko nije odgovarao, a bili su tobože pod zaštitom UNPROFOR-a. Fino je da naši predstavnici dođu u Grubore, ispričaju se za neke žrtve koje jesu, ali mi isto očekujemo da ti srpski ljudi dođu i kažu: mi smo prvi počeli, mi smo vas potjerali. Mislim da je minimum da predstavnici Srba u RH dođu i kažu da je Kijevo prva žrtva. Za žrtvu Kijeva nitko nije odgovarao, a vjerojatno neće ni odgovarati.
– Svi drugi imaju šansu napraviti nešto novo u svom mjestu, a Kijevo ima zadnju priliku da živi. Stoga apeliram još jednom na sve predstavnike da daju tu šansu Kijevu, da ostanemo ovdje da se otvore neka radna mjesta, jer inače će Kijevo ostati pusto. Pozivam sve državne institucije, kako su nam pomagali do sada, neka učine i ovaj zadnji korak, da sva ova dosadašnja ulaganja ne budu uzaludna.
Izvor: narod.hr/hrt